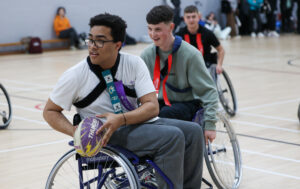 Students at Queen Elizabeth Sixth Form College (QE), Darlington, have taken part in a wheelchair rugby session with professional club Newcastle Thunder as part of a week of college activities to promote good health and wellbeing. The College collaborated with Newcastle Thunder's 'Wheels of Thunder' team to run taster sessions for students throughout the day before opening its doors to the public and hosting a community wheelchair rugby workshop. The event was organised by QE amid a busy week of activities to raise awareness and promote positive health and wellbeing among our 2,000-strong student body and over 180 staff.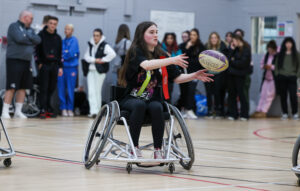 Running from Monday 20th until Friday 24th March, QE's Wellbeing Week aimed to encourage students and staff to get involved in a timetable of up to ten different events each day, from mindful sewing, floristry and knitting sessions to focused talks on dementia, testicular cancer and mental health matters. Organiser Nancy Wall said: 'In today's world, it's so important we support one other and encourage positive mental and physical health and wellbeing. We've packed as much into the programme as possible while ensuring key messages are present around the college, with self-care tips at reception and free fruit and cereal at the college entrance.'
Sessions organised for staff focused on financial wellbeing, the menopause, understanding panic attacks, neurodiversity, and wellness action plans. Activities open to all included outdoor walks, futsal, chess club, gaming, creative writing and cycling security. The college also hosted a wellbeing roadshow, carried out CPR training, arranged running and HIIT training sessions, and offered body MOTs by appointment. Second-year student Harry Spence, from Newton Aycliffe, said: 'There have been so many different and fantastic activities for Wellbeing Week and I feel really grateful that we've been able to take part in them.'
Around 200 students joined Tuesday's wheelchair rugby classes in the sports hall with professional rugby league club Newcastle Thunder. The game is fully inclusive with men and women of any age, with or without disabilities, playing together at all levels, including elite-level competitions. The club's Inclusion Officer Simon Flynn said: 'On the back of the success of the wheelchair rugby league World Cup last year, interest and participation in wheelchair rugby is soaring. We are taking our chairs around the region over the next few months – the idea being we want to set up our own wheelchair team in super league and take over the world with inclusive versions of rugby!' Rugby enthusiast Kit Hodgson, a first-year student studying Sport and Leisure at QE, said: 'It was a great opportunity for students and members of the community to take part in a sport they previously knew little about or had never considered.'
For more information about QE's Wellbeing Week, please contact Nancy Wall at nwall@qeliz.ac.uk.