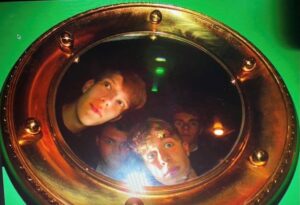 A trio of gifted musicians from Queen Elizabeth Sixth Form College (QE), Darlington, are looking forward to headlining another gig at The Forum Music Centre in Darlington this December. Evan Coates, Tom Hunt and Toby Lill make up three of the four members of indie rock band Common Courtesy and the group's debut gig in June was a roaring triumph, setting the stage for a summer of musical success. The band have performed at local festivals including Last Train Home in Darlington and Heelapalooza in Middlesbrough, and they have supported several major groups such as Coach Party and Courting as their popularity continues to soar.
Evan, Tom and Toby all study Popular Music at QE and drummer, Evan, is excited for the band's future. He says: 'I've been drumming for almost ten years and never thought we would be producing our own songs in College and playing sold out shows. I'm really looking forward to what we can achieve as a band in the future'. Common Courtesy are in the process of releasing their five song EP and have recorded their music in QE's Studio. All of their songs have been played on BBC Radio Tees with their newest single, 'Getting Younger', being named Track of the Week on BBC Music Introducing. Reflecting on how QE has helped the band to establish themselves, Toby comments: 'It's a privilege to play in our band, performing most weekends and producing our own music. I've always wanted to be in a band, however I never thought that I would actually have the opportunity to join one and College has definitely helped me live that dream with their support both in and outside of lessons'.
Common Courtesy's music is available on Spotify and they have had listeners from across the United Kingdom with hundreds of users tuning in on a monthly basis. Tom, who is looking to study Geography at university, adds: 'By starting music in lockdown, I never would have imaged that we would be in the position that we are now, ready to release our debut EP and supporting major bands. I'm excited to see where the future takes us'.
Mike Hepple, Course Leader for Popular Music at QE, concludes: 'Common Courtesy have superb songs and musical arrangements so it's no surprise to see them doing well on the indie music scene. I have the privilege of hearing the full extent of their musical talents in lessons and know that they have fantastic records ready for release. They have the potential to become a national success so see them now before you have to start paying festival prices for a ticket'.
Tickets for Common Courtesy's upcoming gig at The Forum Music Centre taking place on Thursday 22nd December can be purchased at the following link: https://theforumonline.co.uk/events/common-courtesy-with-support-sarah-johnsone/.
To listen to the band's music on Spotify, please visit: https://open.spotify.com/artist/0HgtGhMEKGhDODUrunuRNg?si=dYuxgsDHRQumx0l1LuOzgg.