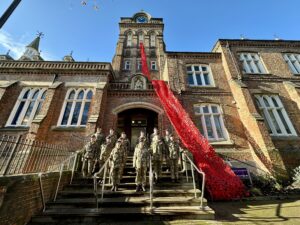 On Friday 10th November, we held a moving service of remembrance to commemorate the servicemen and women who have fallen in the line of duty, and to remember those who have lost their lives as a result of conflict or terrorism.
The service, organised by QE's Combined Cadet Force, welcomed staff and students to pay their respects through a laying of a wreath and by observing a two-minute silence. A magnificent installation of poppies cascading from QE's iconic clock tower, created by students at the College, made for a poignant backdrop for the service.
Cadet Emma Bell, who is in her second year at QE, said: "The opportunity to show respect to past and present servicemen and women, as part of the cadet community, is a very humbling experience and I am very proud to wear the uniform".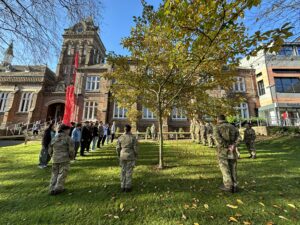 Capt. Emma Hurry, Contingent Commander, said: "I am very proud of the respect that both the cadets and wider College community have shown towards the act of remembrance. They have all worked hard to commemorate this day in number of ways, including creating a superb cascading poppy installation and collecting for the Royal British Legion's Poppy Appeal this week."
Meirion Baker, Assistant Principal, concludes: "The College's Combined Cadet force is a wonderful group of young people whose commitment and sense of responsibility is inspirational.  That commitment was demonstrated in full today as the cadets took time to honour those who have served in conflict.  Their thorough preparation and self-discipline made for a highly moving event which was a credit to them and to those who support and lead them."
QE's Combined Cadet Force will continue their act of remembrance as they parade on Sunday 12th November as part of Darlington's Town Remembrance parade.