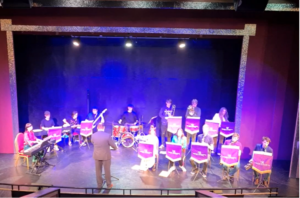 A group of 30 talented musicians from QEhave delivered an enchanting spring concert at The Majestic Theatre. The students are all members of the College's musical ensembles, part of QE's ever-growing Enrichment programme, which cover a range of eras and styles, allowing students to opt for their preferred genre. The Majestic Theatre has been located in the heart of Darlington for almost 100 years and its stage was the perfect venue for the students to showcase their magnificent musical abilities in front of a packed audience.
The evening began with the Baroque Ensemble playing Sonata Op 2 No 5 for flute and violin by Michael Festing, and Allegro from Symphony No 4 by English composer, William Boyce. It was then the turn of second year student, Buffy Hughes, to take to the stage for a captivating solo performance of the Cello Suite No. 1 in G Major, Prélude by Johann Sebastian Bach. Buffy, who studies A Level Music, Sociology and Health and Social Care at QE, was met with a rapturous applause at the end of her piece. The College's Pop Choir sung several twentieth century hits, including Tender by 90s band, Blur, The Wonder of You by the King of Rock and Roll, Elvis Presley, and iconic track, Blame it on the Boogie by The Jackson Five. After the Chamber Ensemble wowed spectators with renditions of Trio Sonata, Op 83, No 1 by James Hook and A Whiter Shade of Pale by Procol Harum, the Classical Choir beautifully sang Mimosa, the Sensitive Plant by Thomas Ebdon, Perfida Clori by Luigi Cherubini and The Banks O' Doon, originally written by Robert Burns. Concluding the event was the Big Band who played Milestones and Freddie Freeloader by Miles Davis and Fried Onions by Larry Barton.
Second year student, Eleanor Westlake, who is enrolled on A Level History, Politics and Psychology, thoroughly enjoyed being a part of the concert. The 17-year-old singer, from Darlington, comments: 'It was wonderful to be able to sing at The Majestic Theatre as it's one of the first times we've performed in front of an audience since the COVID-19 pandemic. Being a member of the Pop Choir at QE has allowed me to continue to pursue my passion for music whilst studying for my A Levels and make friends with students who share similar interests.'
Looking back on the concert, Steve McGarvie, who helps to oversee QE's musical ensembles, says: 'The concert was the culmination of all of the hard work the musicians put into rehearsals throughout the year, and it was a delight to see and hear their performances which were extremely polished and well-received by the audience. It was a thrill to play at The Majestic Theatre. All of the staff and students involved found it to be a great experience.'
Simon Fleming, Course Leader for A Level Music at the College, adds: 'The students really shone in their performances, producing music from different periods of time and in diverse genres. It was fantastic to be back, hosting our first spring concert since 2019.'
QE's musical ensembles are part of an extensive enrichment package offered to both first and second year students to enhance their time at the College. There are five groups to choose from with details listed below:
 Pop Choir – contemporary style with students singing a variety of accompanied and unaccompanied music.
 Baroque Ensemble – ideal for string instrumentalists which focuses on music from the early eighteenth century.
Classical Choir – the opportunity to sing traditional songs from all periods of time.
 Big Band – specialising in jazz music with an emphasis on improvisation.
 Chamber Ensemble – a variety of instrumental music.
 To find out more, please contact Claire Hutton at chutton@qeliz.ac.uk.