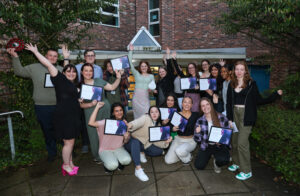 A QE student who has dedicated more than 300 hours to volunteering around his A Level studies and a group of teenagers who slept out on the streets of Darlington to raise awareness of youth homelessness were among those honoured for their remarkable contributions to society at a recent awards ceremony. Eighteen-year-old Tom I'Anson, who coaches weekly youth cricket sessions, volunteers with Darlington Borough Council's Holiday Activity Fund, and is a voluntary teaching assistant at Reid Street Primary School, in Darlington. He was among the students at QE who were celebrated at its fourth annual volunteering awards last Thursday (11th May) The Darlington teenager, who was named QE Volunteer of the Year at the Chris Wiper Volunteering Awards having dedicated more than 300 hours to volunteering over the last 12 months, said: 'Volunteering has made me more confident, a better cricket coach and an overall better person.'
Other winners included a group of teens – all members of QE's extracurricular volunteer group Interact Club – who slept out on a pavement overnight in near freezing temperatures to raise awareness and more than £1,200 in funds for youth homeless charity Centrepoint. They were presented with the Sharon Waterson Young Citizen Award. Winner Sam Cordey, 17, from Darlington, said: ''Volunteering is at the heart of the community – It's what makes a place. You can meet new people, learn new skills and improve the lives of others.'
The Mayor of Darlington Anne-Marie Curry, Darlington Borough Council Leader Jonathan Dulston, and former editor of The Northern Echo Peter Barron, were among those presenting awards at the Chris Wiper Volunteering Awards – so called this year in honour of QE's longest serving Chair of Governors Chris Wiper. Mr Wiper, who was instrumental in the formation of QE's national award winning Interact Club and has been involved in many charitable activities outside of college, said: 'The volunteering carried out by QE students shows what truly remarkable young people they are. It fills me with tremendous pride that they represent our future and I know that their efforts have made such a significant difference to both the college and wider community.'
Jess Fairley, a second year student from Darlington and President of QE's Interact Club, collected the Chris Wiper Award for Outstanding Commitment to the Service of Others along with fellow Interact members Libby Aitken, Elizabeth Wheeler, Eleanor Westlake and Ava King. She said: 'Volunteering at QE is so special because you're able to give back to people. There's such a good atmosphere at college and it motivates you to do more.' Over the last 18 months, Interact Club students have supported numerous projects both in the local community and abroad, including sewing and packaging more than 700 sanitary products for girls in Uganda; sending thousands of letters to people living in isolation; and creating 25 chemo care packs for cancer patients at Bishop Auckland Hospital.
Other winners included Bobbie Campbell and Demi Collins who last month wrapped and placed 350 books around Darlington for local children to find on World Book Day. They were awarded the Project of the Year award. Proactive student Gagan Bura was presented with the Wellbeing Volunteer of the Year award for her work in local care homes and at QE community events. Three students who organise and lead regular seated aerobics classes for care home residents at Abbeyfield Darlington – Harry Spence, Jess Mitchinson and Hannah Moloney – collected the Community Volunteer of the Year award. Jess, 17, from Northallerton, said: 'We're really happy to have won the award and can't wait to volunteer in the care homes again.'
Students who give their time to volunteer in sport were also recognised at the ceremony. Dancer Rebecca Lill, 18, from Northallerton, who is an ambassador for The Tired Movement, an organisation that strives to improve racial inequality within the dance industry, was named Community Sport Volunteer of the Year. Second year student Amy Burton, who plays rugby at college, club and county level, and was recently selected to attend a series of u18 England training camps, was recognised in the Contribution to QE Sport award.
Hannah Malik and Naomi Teklu, who established a group to help highlight and celebrate cultural and ethnic diversity at QE and hosted a vibrant celebration of student culture, were presented with the Contribution to the College Community award. Aspiring human rights lawyer Hannah, a second year student from Ingleby Barwick studying History, Politics, and Fine Art, said: 'We definitely want to keep promoting students of colour in the college and hope to continue our work at university.' Other winners included Olivia Wingfield Jones, who collected the Above and Beyond award for her volunteer work with Community Spirit Newton Aycliffe; her support of families with children with disabilities; and her fundraising for the rotary club.
QE teacher and Interact Club co-ordinator Nancy Wall said: 'Every year I think the students can't do any more to surprise us with their selfless efforts and every year they continue to outdo themselves. It has been an honour to celebrate their volunteering and showcase how brilliant they are.'
Tim Fisher, Principal of QE, added: 'We are exceptionally proud of all our students who commit their time and efforts to support worthwhile causes, help individuals and strengthen communities. We recognise that their acts not only help others, but also drive personal development, build resourcefulness and generate a sense of wellbeing. We extend our congratulations to those shortlisted in each award category and to the very deserving winners.'
PANEL LISTING AWARDS AND WINNERS:
Community Sport Volunteer of the Year
Winner: Rebecca Lill
Shortlisted: Ben Alderson; Ruby Thickett
Contribution to QE Sport
Winner: Amy Burton
Shortlisted: Jess Mitchinson; George Walker
Contribution to the College Community
Winners: Hannah Malik and Naomi Teklu
Shortlisted: Lewis Davis; Amelia Macmillan; Georgia McGarry
Wellbeing Volunteer of the Year
Winner: Gagan Bura
Shortlisted: Ebere Duru; Aimee Caton; Sara De Silva
Community Volunteer of the Year
Winners: Harry Spence, Jess Mitchinson and Hannah Moloney
Shortlisted: Maddie Gibson; Sam Leary
Project of the Year
Winners: Bobbie Campbell and Demi Collins (Books Books Books)
Shortlisted: William Booth and Jack Hopper (QE community events); Bella Tait and Imogen Craggs (World Children)
Above and Beyond Award
Winner: Olivia Wingfield-Jones
Shortlisted: Lewis Davis; Jess Buckton
The Sharon Waterstone Young Citizen Award
Winners: Aidan Hammond, Grace Jackson, Sam Cordey and Jamie Stott
QE Volunteer of the Year
Winner: Tom I'Anson
Chris Wiper Award
Winners: Jess Fairley, Libby Aitken, Elizabeth Wheeler, Eleanor Westlake and Ava King