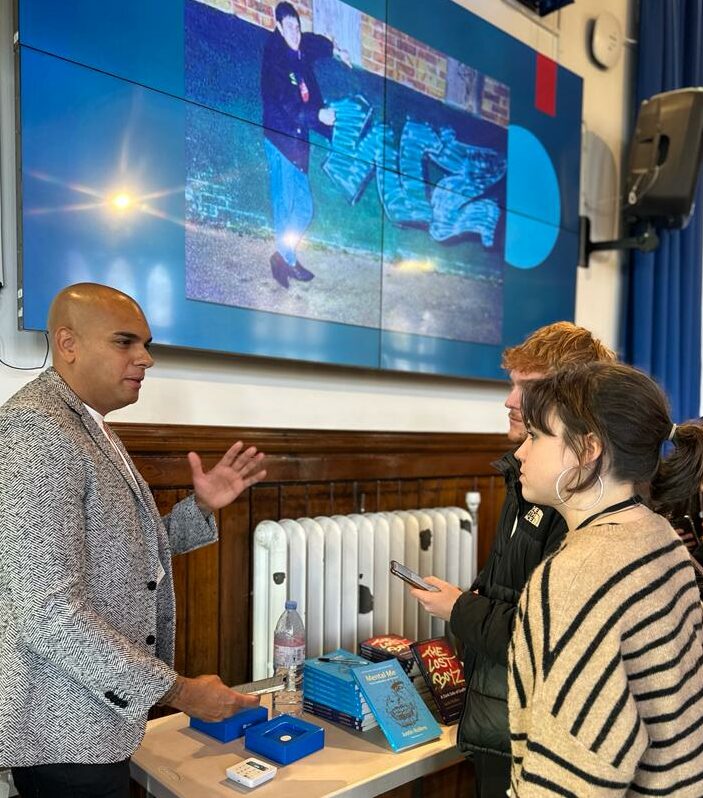 Critically acclaimed author and artist Justin Rollins recently paid a visit to QE to give a captivating talk to our second year Criminology and Sociology students. Justin, a former gang leader, now author artist and speaker, delivered a talk about his first hand experiences and knowledge about the Criminal Justice System, and how this relates to social factors and mental health. Justin regularly delivers lectures in universities and prisons and has appeared on TV numerous times, on shows such as This Morning, Sky News and BBC News.
Justin's talk was particularly significant for our students as it covered topics that are important throughout their studies, as well as discovering more about something that is prevalent in society today. Katie Brough, who is in her second year at QE and studies both Criminology and Sociology says 'I thought that Justin's talk was really interesting and helped me understand the inner working of a gang.  It has also widened my knowledge of how society neglects youths that are forced into gang culture, and I think that the fact that he was so confident in sharing his story with us was extremely inspiring'.
Aafrin Al-Hafiz, who is a second year student studying Criminology adds 'It was a really interesting experience and we got an insight into the criminal justice system in the 1990s'.
Course Leader for Criminology, Rob O'Conner, found the talk to be very inspiring, commenting 'Justin's talk today has been absolutely phenomenal.  We hear about issues such as gang rivalry, knife crime and mental health every day, but to actually hear it from someone who has been there and seen it all, is something else entirely!  Justin's witty and engaging delivery meant that our students were tuned in front start to finish'.
To find out more about studying Criminology or Sociology at QE, visit our Courses pages here:  https://www.qeliz.ac.uk/join-us/courses/