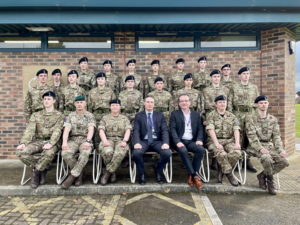 The Combined Cadet Force (CCF) at Queen Elizabeth Sixth Form College (QE), Darlington, have celebrated another year of outstanding achievement and commitment with a distinguished presentation afternoon, attended by the College's Principal, Tim Fisher. During the ceremony, all second year cadets were presented with full star awards which are achieved through the completion of all subjects within the Army Proficiency Certificate syllabus, whilst first year cadets gained their half star awards for finishing at least two sections of the programme. As part of the syllabus, cadets build upon their knowledge of the military, navigation and expeditions, in addition to acquiring a qualification in first aid. There were also certificates and badges for the cadets who passed their BTEC Level 2 in Teamwork and Personal Development in the Community, an extra qualification which further develops a student's skillset. Lt Emma Hurry, Contingent Commander, praised the cadets for their fantastic work ethic, commenting: 'I am really proud of everybody achieving their awards as it shows how they have upheld cadet standards and values during their time with the CCF.'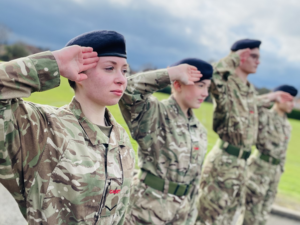 Following the awarding of the certificates, several cadets discovered that they had received a promotion of rank, a testament to their efforts within the CCF. Cpl Luke Davies, was promoted to Sgt, whilst L/Cpl Amelia Martin and L/Cpl Evan Reeves secured promotions to Cpl. Cadet Georgia McGarry, Cadet Daniel Faill, Cadet Ren Michelin and Cadet Ella Thornton were all presented with promotions to the rank of L/Cpl.
L/Cpl Georgia McGarry, who is in her second year at QE and studying A Level Biology, Physics and Popular Music was delighted to be promoted. The 18-year-old from Heighington says: 'I am incredibly happy to see that my hard work is paying off after having only been involved with the CCF for a matter of months and already receiving a promotion'. L/Cpl Daniel Faill, who is in his first year and studying A Level English Language, Geology and Applied Science was also thrilled. The 16-year-old from Darlington adds: 'Being promoted within the CCF has given me a significant, and frankly unprecedented, boost in both my confidence and self-esteem. As a person, I have always wanted to have the opportunity to prove my worth as a good leader and teammate, and I see this promotion as a chance to show that I am capable of succeeding in this role. I am really excited to meet our new first year cadets when they join the CCF in September and share my knowledge with them.'
Assistant Principal, Meirion Baker, who was also in attendance at the awards ceremony and who oversees QE's Enrichment programme, expressed his praise for the hard work and excellent achievements of the College's cadets. He concludes: 'It is always a pleasure to observe and take part in CCF activities. The attitude and commitment of the cadets is exceptional and the experience they get from being part of the force is clearly transformational. I can think of few better ways of developing yourself as a young person than being a part of the CCF and the students who have received promotions demonstrate that brilliantly.'
QE's CCF is part of an extensive enrichment package offered to both first and second year students to enhance their time at the College. Students can choose from a huge range of activities allowing them to try something new, add to their academic profile, gain experiences and make new friends. To find out more, please contact Claire Hutton at chutton@qeliz.ac.uk.