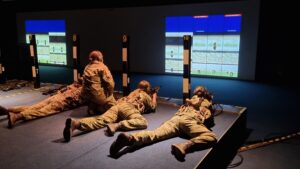 It was a day of thrilling simulated target practice for members of the Combined Cadet Force (CCF) from QE as they worked towards their APC Syllabus Shoot at Wathgill Camp DCCT Range in Catterick Garrison. QE's cadets complete the prestigious APC Syllabus throughout their two years at College and the nationally recognised programme, which is broken down into three distinct categories, strives to provide them with lifelong skills. The students gain certificates in skill at arms, navigation and fieldcraft, in addition to other key areas with the range day at Wathgill Camp giving them the opportunity to achieve Marksman badges. Under the command of Lt Kat Wilson, School Staff Instructor, whose order 'Watch and shoot' was the signal to begin practice, the cadets aimed at computer generated targets ranging in distance from 25m to 100m. All of the students had near perfect shots, rising through the ranks and moving one step closer to their Syllabus Shoot qualification.
First year student, L/Cpl Daniel Faill, who is enrolled on A Level English Language, Geology and Applied Science, found the target practice to be a fantastic experience. The Darlington teenager comments: 'I really enjoyed taking part in the training and it was both a privilege and pleasure to be awarded a Marksman badge.' Fellow first year, L/Cpl Ella Thornton, who studies A Level Psychology, Health and Social Care, and Applied Science has fond memories of the day. She adds: 'It was a great experience that you don't get to do every day. I made some brilliant memories with the best people.'
Lt Kat Wilson, who organises a visit to a DCCT range several times a year in order for the cadets to experience life on an army barracks, was impressed with the students' enthusiasm and dedication to the simulation. She concludes: 'The cadets performed brilliantly on the range and carried out the shooting with such a high level of maturity. They also cheered each other on, demonstrating how their friendships have developed through being part of the CCF. We'd like to thank Sgt Chris Cheshire 4X CCT for overseeing the range day and ensuring all of the activities were completed safely.'
QE's CCF is part of an extensive enrichment package offered to both first and second year students to enhance their time at the College. Students can choose from a huge range of activities allowing them to try something new, add to their academic profile, gain experiences and make new friends. To find out more, please contact Claire Hutton at chutton@qeliz.ac.uk.