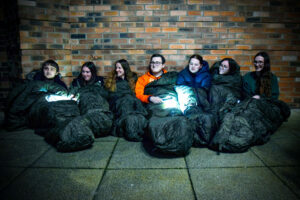 A group of students will spend Friday night sleeping on the streets of Darlington in near freezing temperatures to raise vital funds and awareness of youth homelessness. A mix of Year 12 and 13 students at QE will sleep out on the town's pavements to highlight the plight of tens of thousands of young people at risk of being homeless this winter. They hope to raise hundreds of pounds for Centrepoint, a leading UK charity with an ambitious mission to end youth homelessness by 2037. It provides housing and support to young people throughout the North East, as well as in Yorkshire, Manchester and London. The charity relies on funds to offer homeless young people accommodation, health support and life skills, in order to get them back into education, training and employment.
The ten teenagers sleeping out are all member of QE's Rotary Interact Club. Its President Jess Fairley, a second year student from Darlington, studying A Level Politics, History and Maths, said: "We hope that by raising funds for Centrepoint, at least two young people can be given a place to stay with the stability to attend college and get their lives back on track. Everyone deserves that chance." The students will be armed with sleeping bags and be accompanied by teacher Nancy Wall, coordinator of QE's award-winning Interact Club. She said: "As a college we do as much as we can in the local community, and Interact members have already put together hygiene packs and organised a clothes collection to support the homeless. "Students recognise that times are tough, costs are soaring and for thousands of people their age, this winter will not be easy. They really want to make a difference." Students set up a GoFundMe page and have already smashed through their £300 fundraising target. Grace Jackson, from Stockton, who is taking A Level Biology, Business and Maths, said: "I have never done anything like this before, but some people my age have no choice. I know it's going to be cold, maybe raining, and I won't get much sleep – but it's one night and for a great cause; some people do this every night."
Centrepoint predicts that around 30,000 young people will face homelessness this Christmas. Prince William has been a Patron of the charity since 2005. Lucy Goble, Mass Participation and Events Manager at Centrepoint, said: "We are really grateful that students from the Queen Elizabeth Sixth Form College have chosen to support us and to swap their beds for sleeping bags so that fewer young people have to. "Their support couldn't have come at a more crucial time. The coming months will be very challenging, especially for those vulnerable young people who continue to live at the sharp end of this cost-of-living crisis, but money raised from Sleep Out events really do go a long way in helping them turn their lives around."
To support QE and Centrepoint visit: Fundraiser by NANCY WALL: SLEEPING OUT SO OTHERS CAN SLEEP IN (gofundme.com).