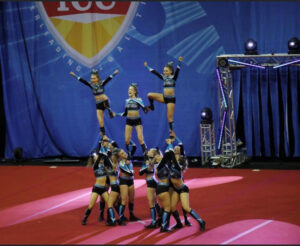 Five outstanding cheerleaders are to travel to Orlando, Florida, to participate in the highly prestigious Cheerleading World Championships. Charlotte Curnin, Chloe Sharp, Jess Hamilton, Lily Archer and Lucy Archer are all members of Lazer Cheer Academy, based in both Catterick Garrison and Darlington, and along with six other teammates, have been invited to compete in the world's most famous cheerleading contest following a successful home country bid. The talented athletes will fly out to Orlando in mid-April and whilst there, will train at some of the biggest gyms in America and have the opportunity to meet their cheerleading idols. The Cheerleading World Championships, which are to be held at the ESPN Wide World of Sports Complex, will see over 11,000 cheerleaders take part from 18 different countries in a fantastic showcase of the world's best performers. On their team, Charlotte, Chloe, Jess, Lily and Lucy are tumblers which requires immense strength and balance, and adds incredible excitement to a routine.
Sisters, Lily and Lucy, from Aiskew, have been cheerleading for eleven years and both have their own individual roles when not competing in the international squad. 16-year-old Lucy, who studies A Level Business, Health and Social Care, and Sport and Leisure at QE, is a base, found at the bottom of a pyramid or stunt and lifting flyers. She comments: 'We are all very excited for the Championships and can't wait to compete on a global stage.' Lucy is hoping to study Sport in higher education after her A Levels. Meanwhile, 18-year-old Lily, who is enrolled on A Level Fine Art, Health and Social Care and Psychology, is a flyer and often lifted and thrown during routines. She is also looking forward to the event, adding: 'We're going to have the best time! We're very nervous but we know that it's normal to be.' Lily, who is in her second year at College, is considering applying to QE's Foundation Art course or pursuing a career in child therapy or teaching.
16-year-old Charlotte, from Leyburn, has been captivated by cheerleading since the age of eight and similar to Lucy, is a base. She studies A Level Economics, Sport and Leisure and Psychology at QE, and is thankful for the doors cheerleading has opened to her. She says: 'We are all so grateful for the opportunities that cheerleading has given to us. We would have never imagined that we would be travelling to Orlando to participate in the Cheerleading World Championships.' Charlotte's long term goal is to study Sport at university. Chloe, from Catterick Garrison, assumes the role of both flyer and base, having been training for six years. The 17-year-old, a student of A Level History, Philosophy and Psychology, cites cheerleading for helping her develop into the person she is today. She explains: 'Cheerleading has absolutely made us who we are and we have made lifelong friends through the sport.' Chloe has aspirations to coach her own team and share her knowledge with new, upcoming athletes.
Jess, who is also a base, lives in Colburn and is enrolled on A Level Geography, Sport and Leisure, and Travel and Tourism. The 16-year-old has been a cheerleader for six years and despite wanting to take a Gap Year after her A Levels, describes how all five teammates want to continue with the sport. She comments: 'All of us are cheerleading assistant coaches and will carry on with these roles. We hope to keep on cheerleading in some form or another for as long as we can.'
Laurence Job, Deputy Principal at QE, concludes: 'We are extremely proud of Charlotte, Chloe, Jess, Lily and Lucy. They are incredibly talented, as shown by their excellent achievement of progressing to the Cheerleading World Championships. We wish them every success and hope that they enjoy the competition in Florida. We look forward to hearing about their experiences.'
Before the squad head to Orlando, they will be taking part in Lazer Cheer Academy's championship showcase on Saturday 15th April, allowing family and friends to see them perform one final time before the competition. For more information, please visit: https://www.lazercheer.com/.