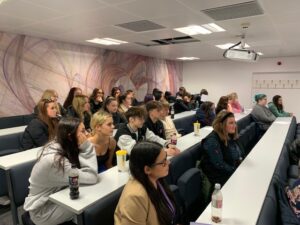 A Level Sociology and Criminology students from Queen Elizabeth Sixth Form College (QE), Darlington, have explored the world of higher education through a Discovery Day at Teesside University. The students were treated to a number of exciting lectures which delved into a range of topics, including the prison system and contemporary issues facing staff and inmates. Another fascinating subject covered was the impact of the recent COVID-19 pandemic on criminal and deviant behaviour, as well as the government's response and handling of the situation. The study of crime features prominently in QE's Sociology and Criminology courses with the visit allowing students to obtain an in-depth insight into this topic through a higher education perspective.
Amelia Davidson, who studies Criminology, Health and Social Care and Psychology at QE, comments: 'I found it helpful and it gave me an insight into some of the content that you study at university', with Criminology Course Leader Rob O'Connor adding 'Students all had a wonderful time attending the lectures. These opportunities allow students to form more enhanced answers to some of the big questions they will explore throughout their studies, so has been an invaluable experience for all who attended'.
For more information on QE's Criminology and Sociology courses, please contact Laurence Job, Deputy Principal, at ljob@qeliz.ac.uk.