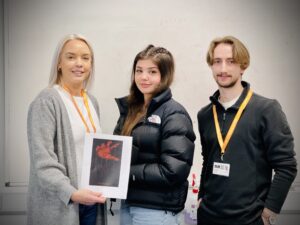 Lily Worsdale Al-Khalidi, a first year English Literature student from Queen Elizabeth Sixth Form College (QE), Darlington, will spend an exciting day at the helm of a local PR and marketing company as part of her prize for winning a branding competition. For the second consecutive year, QE's English Literature department has worked closely with Resolution, based in Stockton-on-Tees, to challenge students to design their own book cover for the dystopian classic, 1984, by George Orwell. Orwell's iconic novel is a key text studied as part of the College's A Level English Literature course and the brief was to create an eye-catching jacket with an accompanying blurb to appeal to new readers. Many students entered the competition, some as collaborations, however it was Lily's puppet-themed cover which earned her first prize and a day of work experience at Resolution, which will see her spend time with the organisation and obtain a practical insight into how a PR agency functions.
When asked about the idea behind her interpretation of the cover, Lily, who also studies A Level History and Psychology, explains: 'My idea for the book cover stemmed from the all-encompassing power of the dystopian dictatorship in the novel and the exploitative wrath of Big Brother. I found this seemingly unbreakable autocracy fascinating, with the omniscient aspect of the ever-present propaganda and its followers practically homogeneous with that of a puppeteer and its acquiescent puppets. Going with this theme, I decided to make a puppet master the symbol of the cover, with the title 1984 itself strung up on its fingers to really drive the representation of the complete power and submission Orwell creates in this nightmarish world.' The 17-year-old, from Stockton-on-Tees, has relished the opportunity to study the text from a new perspective. She adds: 'I have really enjoyed being a part of the 1984 competition. It has been a chance to interpret the classic Orwellian tale in a completely new and creative way that has enhanced my understanding and love for the novel.'
Julie Ashmore, Course Leader for A Level English Literature at QE, was delighted to welcome Sharon Starkey, Managing Director of Resolution, back to the College to present Lily with her prize. She says: 'We adore working with Resolution and it was brilliant to run the 1984 competition for a second year. Sharon and Oli (Walker – Graphic Designer) were incredibly impressed by the creativity and quality of all of the designs, but Lily's definitely stood out. It captivated us all! The students gain such valuable experience when visiting Resolution as it opens their eyes to the careers that English Literature can lead to.'
Lily is looking forward to bringing her vision to life at Resolution and getting involved in a number of day-to-day activities. The teenager concludes: 'I'm really excited to begin my placement at Resolution and watch the professionals at work.'
To find out more about QE's A Level English Literature course, please email Laurence Job, Deputy Principal, at ljob@qeliz.ac.uk.