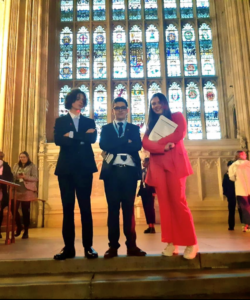 A determined and dedicated first year student from Queen Elizabeth Sixth Form College (QE), Darlington, is looking to make a significant change to the lives of young people as a Member of Youth Parliament (MYP). Connor Fox, who studies A Level Modern History, Law and Politics at QE, was elected in February 2022 and currently represents Central North Yorkshire which includes Richmondshire and Hambleton, and Selby along with two other MYPs who act on behalf of North, East and West Yorkshire. Supported by the British Youth Council who organise yearly Make Your Mark votes which seek to obtain an understanding of the factors affecting under 18s, Connor, from Northallerton, incorporated the responses into his manifesto and made three key pledges. He explains: 'My main pledges were improving the system for free school meals raising awareness of food poverty, working to improve GCSE options in my local area and ensuring schools are fully inclusive for all which would help students with disabilities'. It was this manifesto which secured Connor hundreds of votes and position as a MYP. He adds: 'This role has allowed me to visit several areas across Yorkshire and Humber, and I am truly humbled to have been given this opportunity'.
In November, Connor visited London and participated in the annual Youth Parliament debate at the House of Commons. Similar to a Member of Parliament (MP), Connor sat in the chambers and the debate was overseen by the Speaker of the House before MPs gave feedback and advice. 'We voted on what the Youth Parliament will focus on as a general agenda for the rest of our term', Connor says. 'Before the debate, we held a national conference to discuss potential policies which would eventually form the five motions in Parliament. I was lucky enough to propose the idea to combat food poverty which we all overwhelmingly voted to add to the motions'.
The big question Connor is asked is what his role entails as a MYP. He explains: 'It is indeed a similar role to a sitting MP. I am tasked with carrying out the issues raised in the Make Your Mark campaign, in addition to delivering my manifesto pledges. However, there are always new opportunities and challenges which arise such as establishing youth councils for local young people to lead their own, smaller campaigns'.
When asked about his future plans, Connor is hopeful that he can continue making a difference to the lives of young people in the region. He says: 'When my term ends in 2024, I would like to keep working with young people and perhaps move into mainstream politics. I also want to go to university to study either Law or Politics'.
Meirion Baker, Assistant Principal at QE who also teachers Connor A Level Politics, adds how proud everyone at the College is of his work as an MYP. He comments: 'We are very proud of Connor. He is a remarkable young person who, through his work as an MYP, is already have a big impact on the lives of others. He takes his role seriously and loves explaining his work to his fellow students, but he is also very modest and genuinely motivated by a desire to make a difference. Connor happens to be an exceptional student too, and the combination of his ability and his experience will, I'm sure, lead him to do great things in the future.'
Connor's local MP, Rishi Sunak, welcomed his constituent's commitment to being an effective Member of Youth Parliament. The Richmond (Yorks) MP says: 'It is great that Connor is working so hard to represent young people from the area where he lives and making sure their voice is heard. It is important that young people like Connor take an interest in politics with a view to making a difference to the lives of their generation. I look forward to seeing Connor one day making a contribution in the House as an MP.'
Connor is always keen to hear from his constituents and if any young people from Central North Yorkshire would like to get in touch with him to discuss general issues or to find out about opportunities for them to use their voice, they can email Connor at connorfox.myp@gmail.com.
For more information about the British Youth Council and to read about recent campaigns, please visit: https://www.byc.org.uk/.
Connor is pictured centre in the images along with two other MYPs.