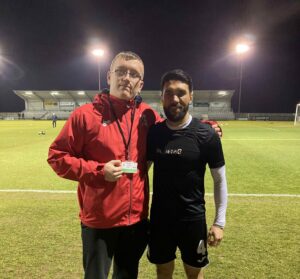 Combining his love for sport and media, Jack Cornwell, a second-year student from Queen Elizabeth Sixth Form College (QE), Darlington, has carried out an exciting interview with professional footballer, Danny Rose, as part of an important piece of Creative Media Practice coursework. Jack, who also studies A Level Photography and Criminology at QE, met Danny as part of his volunteering role with Darlington Football Club and was delighted when the midfielder agreed to sit down with him and answer some of his fans' burning questions. Danny has played for Darlington since 2021 having captained the reserve side of Premier League giants, Manchester United, and enjoyed success with Oxford United and Portsmouth as well as other well-known teams. During the one-to-one interview, Jack quizzed Danny on many aspects of his professional career, including asking him about the best player he's teamed with, the best stadium he's played at and the best manager with whom he's worked. As the discussion progressed, Jack was keen to discover more about Danny's time at Darlington and the recent success the club has had in the National League North with the team currently sitting comfortably in the top half of the division and finding themselves as contenders for a promotion. Looking back on the interview, 18-year-old Jack, from Darlington, comments: 'It felt fantastic to speak with Danny as he is so experienced in the world of football and has been involved with many great clubs. Danny is such an inspirational person and I would love to be able to interview him again in the future.'
Following the interview, Jack will edit the recording using the vast array of skills he has developed as part of QE's Creative Media Practice course before submitting it as his final project. The practical and industry-focused diploma provides students with an underpinning knowledge of techniques which will allow them to flourish in the media industry and challenge their creativity. The recording may also be uploaded to Darlington Football Club's website, social media platforms and YouTube channel, which Jack has helped manage for several months. His main role with the club involves recording home games and uploading the footage as a comprehensive highlights package, in addition to forming part of a live broadcast streamed across the Internet to thousands of fans. Reflecting on his time with Darlington, Jack says: 'It is such an honour to be able to work with Darlington. They are always helping people succeed and it is a pleasure to record on the side lines and do what I enjoy best.'
Jack cites his time at QE for allowing him to thrive as a videographer. He adds: 'My Creative Media Practice teachers, Beccy and Vicky, have been truly inspirational and really helped my camera skills to prosper. If it wasn't for what they have taught me, I wouldn't have secured my role with Darlington and interviewed Danny. It's wonderful that I've been able to use my volunteering to contribute towards my final piece of coursework.' Jack is also thankful for the friendships he has formed whilst at college. He explains: 'Another great thing about QE is the friends you make and how they also support you. I spend a lot of time with Thomas Fenwick in Media and he always looks for ways for me to improve my camera work which is perfect for my filming with Darlington.'
As Jack's time at QE reaches its final few months, he is hoping to continue his volunteering at Darlington and obtain an apprenticeship in the media industry. He explains: 'I definitely want to keep up my videography work with Darlington and work for a media company. The opportunity Darlington has given me has been amazing and I'd like to thank the club, in addition to Beccy, Vicky and Thomas for all of their support over the last two years'.
Beccy Vickers, Course Leader for Creative Media Practice at QE, says: 'Jack has done an excellent job and put a great deal of effort into his media project. The fact he can use his volunteering opportunities at Darlington Football Club as part of his studies is brilliant. Within Creative Media Practice, students are encouraged to communicate with industries and professionals, and Jack is to be commended on taking the initiative and effort to organise such a professional interview. There were a few times where the session had to be rescheduled for various reasons, but Jack's resilience and enthusiasm did not waiver and the interview was a huge success.'
A spokesperson from Darlington Football Club concludes: 'Jack has been a very keen and enthusiastic individual who has done some outstanding camera work for us in the last two seasons. He has got plenty of potential to do well, and we'll be watching his progress with interest.'
Pictured is Jack Cornwell (left) and Danny Rose (right).