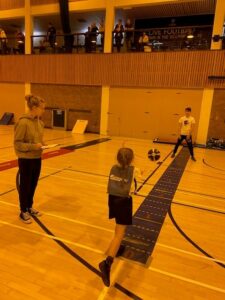 Sport and Leisure students from QE have teamed up with Darlington School Sports Partnership to deliver the hugely successful Darlington Primary School Indoor Games 2022. The event, which took place at the Dolphin Centre, began with QE students demonstrating activities to the Year 3 and 4 pupils from across Darlington before they supported them with a range of indoor athletics challenges including relays and soft javelin. As part of QE's Sport and Leisure course, students complete an event unit and the Sports Leaders UK Level 3 Award in Higher Sports Leadership, with the primary school games providing a wealth of useful evidence towards the qualification.
Reflecting on the day, Justyna Curylo, who studies Sport and Leisure, Photography and Criminology at QE, comments: 'The athletics event allowed us to develop many skills and put into practice the things that we are learning in Sport and Leisure. We'll be able to take what we have learnt and use it as we progress through the course and onto university or further training'. Paul Carroll, teacher of Sport and Leisure, adds: 'Our students were superb and provided great support to the pupils, demonstrating strong levels of leadership. They displayed excellent communication skills and established good working relationships with the schools and delivery team during the event. Days like these help students to gain valuable employability skills and look fantastic on CVs which will benefit them with their progression'.
Sara Wrangham, Move More Officer at Darlington School Sports Partnership, concludes: 'We'd like to say a really big thank you to all of QE's Sport and Leisure students who helped to support the indoor games at the Dolphin Centre. They were brilliant leaders and we were so grateful to be able to work with them. The students were confident, and they both encouraged and praised the children during the activities with everyone enjoying the day.'
QE works with Darlington School Sports Partnership on a regular basis to provide sporting and physical activity opportunities to young people within the Borough of Darlington. The College's Sport and Leisure department will continue to strengthen this relationship in the new year with more events being lined up in the calendar.
For more information on QE's Sport and Leisure course, please contact Laurence Job, Deputy Principal at ljob@qeliz.ac.uk.