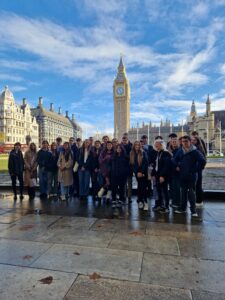 A Level Politics students from QE have returned to London and Parliament for the first time since the COVID-19 pandemic. The hugely popular visit, involving more than thirty students and a highlight of the College calendar, brought to life the places and people that are studied as part of QE's Politics A Level. The day-long trip saw students take in the famous sights of Downing Street, Horse Guards Parade, Whitehall and Parliament Square itself before they joined Peter Gibson MP for an intensive question and answer session. The group demonstrated a sharp awareness of the top issues in politics today, quizzing Darlington's Conservative MP on a variety of different topics including the cost-of-living crisis. John Lawson, from Sedgefield who studies Politics, Maths and Physics at QE, comments: 'I was pleased to meet Peter Gibson, he came across as very approachable'. Seth Reece, from Darlington who is enrolled on Politics, English Literature and History, also enjoyed the session and described it as 'a way of seeing the inside world of an MP'. The meeting took place in Committee Room 18, a room which is usually reserved for MPs to ask the questions.
During the trip, two students had the rare opportunity to visit the public gallery and watch Prime Minister's Questions which featured a debate between Deputy Prime Minister, Dominic Raab MP, and his Labour Party counterpart, Angela Rayner MP. Jess Fairley, from Darlington and a student of Politics, History and Maths, explains: 'I was impressed with the debate and Angela Rayner's ability to scrutinise the Government at the dispatch box.' Eleanor Westlake, also from Darlington who studies Politics, History and Psychology, adds: 'It was great to be in the front row of politics'.
The group concluded their day with a tour of both parts of the Palace of Westminster where they were able to observe a debate taking place in the House of Lords about prescription drugs. They also saw Michael Gove MP, Secretary of State for Housing, facing questions on social housing. Gemma Gale, from Darlington and who is enrolled on Politics, Criminology and Sociology, says: 'It was a really enjoyable trip and great to see people who we normally only read about and watch on television in action in real life'.
QE's A Level Politics course introduces both the British and American political systems and thoughts are now turning to the department's trip to Washington D.C. in the new year where students will explore the American capital and meet leading senators in Congress.