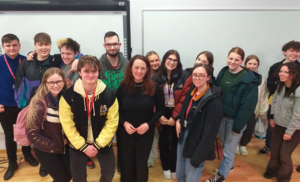 A Level Politics students from QE have had the unique opportunity to meet and quiz the Labour Party's prospective parliamentary candidate for Darlington, Lola McEvoy. Lola, who was selected to stand by the Darlington Labour Party in November and who is a former QE student, spoke to a group of over forty first and second year Politics students about a huge range of both national and local issues. These included the Government's treatment of refugees, the cost-of-living crisis, the possibility of Scottish independence and the Labour Party's vision for Darlington.
First year student, James Hawkes, who studies A Level Politics, Economics and Law at QE, questioned Lola about how she thought the Labour Party, if elected, would attempt to restore trust in politicians, prompting a lively discussion about ethics. Second year student, Keaton Holland, who is enrolled on A Level Politics, English Literature and Law, asked for Lola's thoughts on how the Labour Party would help, what he considered to be, the 'forgotten' areas of Darlington, whilst Ffion Lawrence-Hall, who is also in her second year and a student of Politics, Business and History, raised the issue of proportional representation. This sparked another thrilling conversation about the advantages and disadvantages of the current voting system within the United Kingdom and the extent to which proportional representation could provide protection from the extremism seen in some European countries. First year student, Tom Kipling, who studies A Level Politics, Psychology and Sociology, was impressed by Lola's openness. The 17-year-old, from Darlington, says: 'It was great to learn about Lola's opinions, plans and the direction of the Labour Party in today's climate. It has definitely given me hope for the future of local politics.'
During the hour-long session, Lola talked about her own personal journey into frontline politics, which began as a Politics students at QE, and involved working as a community organiser and in the trade union movement. To conclude her visit, Lola responded to questions about careers and how students can take advantage of opportunities to improve their own chances of working in a field where they can truly make a difference. First year student, Alexia Linck-Hernandez, who is enrolled on A Level Politics, English Literature and History, found it interesting to hear about the roles Lola has had in her career. The 17-year-old, from Darlington, comments: 'It was fascinating to see the range of jobs and volunteering Lola did before becoming a candidate for Labour.'
Lola also took time out to participate in an interview for the Politics department's new podcast series 'QE Politics 258' which already features four thought-provoking episodes and which is available on Spotify.
To find out more about QE's A Level Politics course, please contact Laurence Job, Deputy Principal (ljob@qeliz.ac.uk).