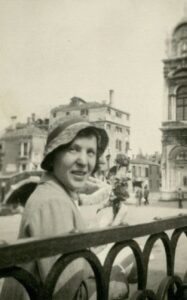 In 1985, a new music award was inaugurated at QE. Named the 'Leschinski Music Prize' it involved an evening concert, held annually, where college students would perform to an audience. Two judges then awarded a prize of £25 to the best musician. The award had been established in that year by a Mr W. M. Wolf in memory of his piano teacher in Berlin who, according to him, had been 'a refugee from Communist Russia and was later murdered by the Nazis'. Wolf himself had left Germany, then under the shadow of Nazi rule, and ultimately settled in Darlington where he was warmly welcomed into the local community. In 2017, the prize was combined with the College's annual student leavers' concert to become the 'Leschinski Memorial Concert'. Prizes, each worth £25, are still awarded, but in the three categories of 'Best Musician', 'Biggest Contribution to the Music Department' and 'Most Improved Musician'. In the hope of finding out more about Leschinski, I undertook a search of Holocaust records, most of which are available online. However, rather than finding a record of Leschinski's imprisonment and ultimate death in a concentration camp, I instead turned up a story of escape and a long life in the USA.
Although Wolf was not to know this, his piano teacher 'Olga Leschinski' was actually named 'Golda Sara Leszynski' (née Nossanowski), although she preferred the name 'Olga'. Even though I was unable to find anything on 'Leschinski', the holocaust records brought to my attention the various spellings of her surname. However, it was finding the record of her transit to America in 1940 that made me aware of her survival. Much of the information on her life was subsequently found during online searches, which also brought up some of her personal papers and photographs, now held by the United States Holocaust Memorial Museum, Washington D.C., and which the museum staff kindly photographed for me.
Leszynski was born on 19 January 1902 in Odessa, Russia, today part of Ukraine. In the wake of the First World War, and during the Russian Civil War, there was a rise in antisemitism in that country, at which time an estimated 100,000 to 150,000 Jews were massacred in Ukraine and southern Russia. It was presumably due to this persecution that Olga fled. From there she emigrated in 1921, via Poland, to Berlin, Germany, where she became a concert pianist and performed with several chamber orchestras. Here she also taught piano, and it was at this time that she would have given Mr Wolf his lessons. Her husband, Werner (1898-1962), obtained a doctorate in physical chemistry in 1926 and, before the war, was the editor for the journal of the German Chemical Society. However, with Hitler's appointment as Chancellor of Germany in 1933 the situation became increasingly precarious for the Jewish population. In August 1935, Olga was removed from her position in the Reich Chamber of Music by order of the minister of culture because she was Jewish. A request the following month to have herself reinstated was rejected. In early 1939, Werner was sent by his publisher to Prague and, soon after his arrival, he sent for Olga and their three-year old daughter Ruth (1935-66). Olga arrived in Prague in March but, on the 15th of that month, the Bohemia and Moravia region of Czechoslovakia, where Prague was located, was occupied by the Nazis. The family were fortunately able to escape by aeroplane to London, from where they obtained visas for the United States. They sailed from Glasgow on the SS Cameronia, arriving in the US on 29 July 1940. With them they carried a pair of silver candelabras, rescued from the synagogue in Stolp, Germany (now Słupsk, Poland). This building was destroyed on 9th/10th November 1938 during 'Kristallnacht' or the 'Night of Broken Glass', an infamous episode in which Jewish shops, homes, and other buildings were attacked. Now safely in America, Werner continued his scientific work, and obtained a position with the Schwarzkopf Development Corporation. He also continued to write, and published numerous academic papers. Olga, on the other hand, continued to be involved in music, teaching piano. Olga outlived her husband by almost 14 years and died on 20th January 1976, aged 74, in Yonkers, New York.
This year's event, the first since the Covid-19 pandemic, continues to honour both Leszynski and Wolf and has now been appropriately renamed the 'Leszynski Memorial Concert'. It will be held at Darlington's Majestic Theatre on Monday 27th March at 7.30pm, and will feature a selection of music performed by the College's big band, baroque ensemble and choirs. It is open to the public with tickets priced at £5.
For more information about the concert, please contact Simon Fleming (sfleming@qeliz.ac.uk).
Image – Olga Leszynski, before the Second World War, during a tour of Italy.
 Photograph used with permission: Donated to the United States Holocaust Memorial Museum by Carol Baldridge, acc. 2007.516.1.