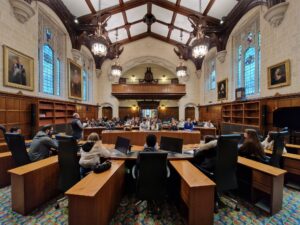 A Level Law students from Queen Elizabeth Sixth Form College (QE), Darlington, have spent an exciting night in London visiting prominent buildings linked to the capital's world famous legal system. Upon arrival, the group received an informative tour of the Inns of Court, the professional associations for all barristers in England and Wales which dates back to the fourteenth century. Dan Walls, who studies A Level Law, History and Politics at QE and who has applied to read Law at university, particularly enjoyed the tour. He explains: 'The visit to the Inns of Court has inspired me even more to pursue a career in Law. The opportunity to work and live in such an environment motivates me to want to succeed in both my A Levels and at university'. The next stop was the West End with the students watching a performance of Agatha Christie's critically acclaimed 'Witness for Prosecution' at County Hall. The gripping story focuses on a dramatised version of a court case following a suspicious death with the staging set up to resemble a real-life courtroom.
The second day began with an Old Bailey Insight Tour providing students with an insight into the renowned courthouse and the gruesome cases which have taken place there over the years. There was also the opportunity to see some of the original cells of Newgate Prison which was demolished in 1904. Fast forward to the twenty-first century and students took in the sights of The Supreme Court, one of the newer buildings to join London's legal district having only been built in 2009, with its purpose to house final courts of appeal. Here, the group were able to explore all of the courtrooms and complete an activity based on the notable things to find within the Supreme Court. The final stop was The Royal Courts of Justice with students taking part in a workshop and staging their own court case. Each student had their own role to play in the re-enactment and were tasked with making a decision based on the evidence with which they had been presented.
Looking back on the trip, Net Perera, who studies A Level Law, Film Studies and Psychology, comments: 'I found the visit very enjoyable and useful. It was good to see the insides of the courts and how they work, and participating in the mock trial helped me to understand what it would be like in a real-life situation, something we wouldn't experience otherwise'. Laura Wallace, who is enrolled on A Level Law, Geography and Politics adds: 'The trip provided me with a greater understanding of my study of Law and allowed me to see how my knowledge of Law is applied to the real world'.
Ellie White, teacher of A Level Law at QE, concludes: 'The visit to London was a fantastic opportunity for our students to see Law in action. It proved to be an incredibly useful aid to their studies, as well as providing an enriched experience for those who wish to further their studies in Law at a higher level'.
For more information about QE's A Level Law course, please contact Laurence Job, Deputy Principal, at ljob@qeliz.ac.uk.