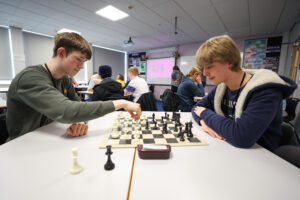 A group of avid chess players from QE have taken their extra-curricular activity to new heights by participating in an exciting internal chess competition. Taking place over the spring term, the students, who are all members of the QE Chess and Games Club, competed in two divisions: the competitive league for more experienced players and the development group for students who have been introduced to the game more recently. During the contest, a whopping 200 chess matches were played, many of which were hard fought with nail-biting finishes.
The winner of the competitive league was second year student, Luke Owen, who is enrolled on A Level Chemistry, German, Maths and Further Maths at QE. The Darlington teenager played a faultless game and won with maximum points. He says: 'It has been great to come along to the Chess and Games Club over the last two years as it has provided a fantastic antidote to the stresses of studying A Levels.' Coming in second place was Andrew Everson, who is also in his second year and studying Chemistry, Maths and Physics. He adds: 'I'm chuffed that I finished runner up in the competitive league. I started to learn to play chess when I came to QE and I liked that we learnt as we went along. Coming second surprised me as there were some really good players.' Achieving success in the development division was first year student, Owen Forsyth, a student of History and IT, with fellow first year, Connor Fox, finishing second. Connor is enrolled on A Level History, Law and Politics.
Ed Nolan, QE Chess and Games Club Co-ordinator, comments: 'It was a brilliant competition and really gave the students a chance to make new friends and bond over their love of chess. Luke and Owen were worthy winners, but everybody should be very proud of themselves as their skills developed enormously. We also have to give a special commendation to Aidan Hammond and Mia McKenzie for their contributions to the contest.'
QE's Chess and Games Club forms part of the College's extensive Enrichment programme which continues to go from strength and strength, providing students with the opportunity to take part in activities outside of lesson and obtain valuable new experiences and skills. To find out more, please contact Claire Hutton (chutton@qeliz.ac.uk).