Each year the College has places for around 1000 new first year students who largely come from schools in Darlington, County Durham, North Yorkshire and Teesside. We are usually able to offer places to all applicants provided they meet the application deadline and achieve the entry qualifications.
If you are a student from a partner school, you will receive information about the application process from QE members of staff who will be in contact with your school. You can also apply online.
QE's partner schools are:
Bedale
Bishop Barrington
Greenfield
Haughton
Hummersknott
Hurworth
Longfield
Sedgefield
St. Aidan's
Staindrop
St. Francis Xavier
Woodham
Wyvern
For each of our partner schools there are liaison staff who will work closely with students to give advice about subjects, enrichment activities and further information about life at QE. Staff will also explain our entry procedure and will help with applications.
If you are a student from a non-partner school, an application form can be sent to you or you can apply online. Many students from non-partner schools attend QE and are very welcome. Please contact Laurence Job (Deputy Principal) who will send you relevant information (qe@qeliz.ac.uk)
The usual entry requirement to QE is 5 GCSE grades at 4 or above including Maths or English. Your programme of study will be personalised to reflect your individual needs and GCSE profile. Head on over to our Explore our Courses page to find out more about specific entry requirements.
If you apply to the College and are offered a place, you will be invited to our Bridging Course which is currently scheduled for the summer of 2024, after your GCSE exams have been taken. This is to give you the opportunity to sample a range of subjects and to learn more about life at QE.
Please see below for a summary of the application process: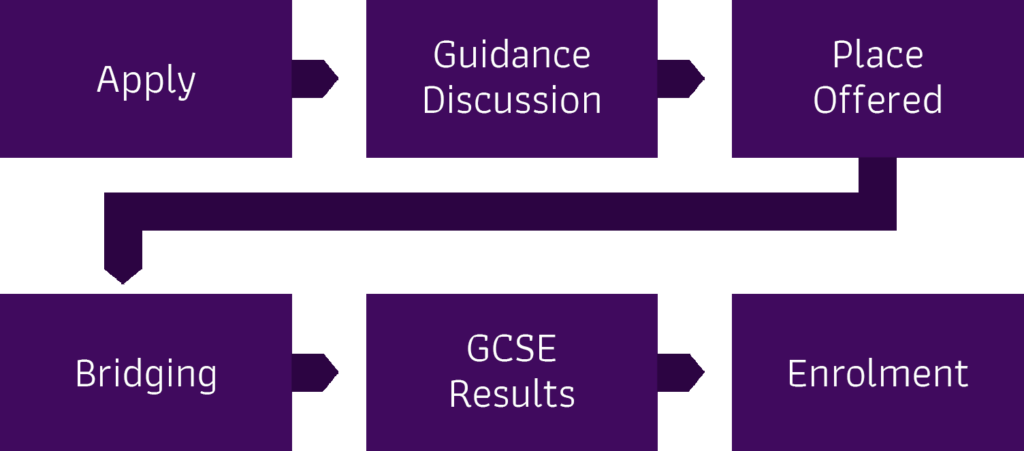 All applications need to be submitted by Friday 19th January 2024, please.