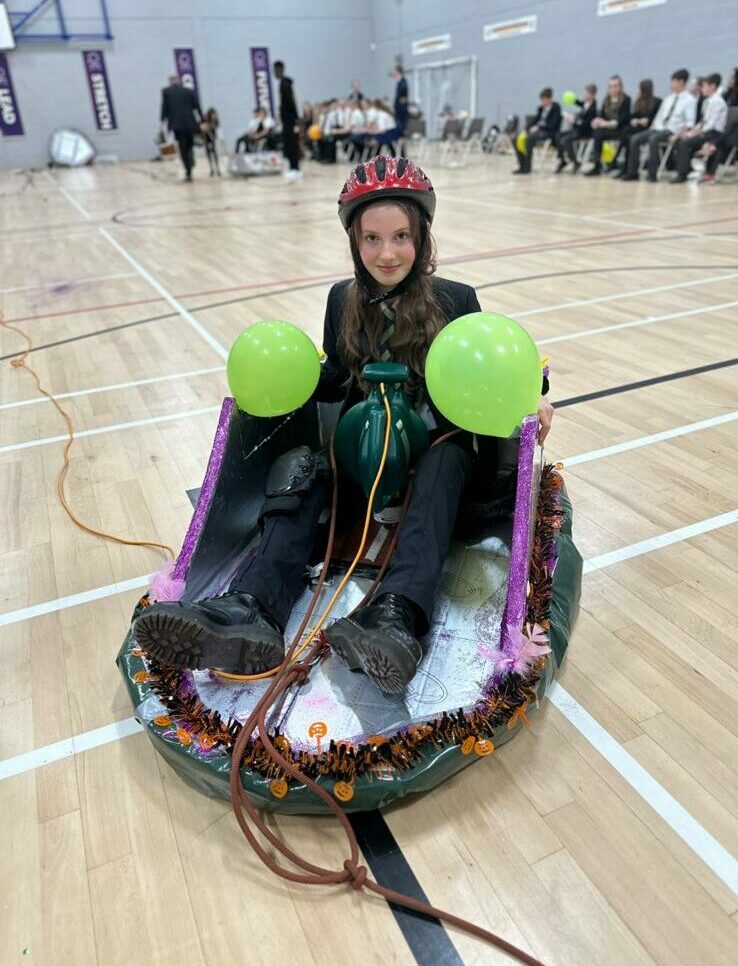 Budding engineers from eight secondary schools across the region put their design skills to the test as they created their own hovercrafts and raced them to the finish line.
The action-packed day saw almost 70 teenagers from schools in Bishop Auckland, Bedale and across Darlington gather at QE and build their own working hovercrafts, made from insulation boards and powered by leaf blowers. It culminated in a thrilling race with Haughton Academy securing the win.
QE hosted the popular workshop in partnership with J & J Projects, an organisation running outreach work in schools to help inspire young people to consider STEM (science, technology, engineering and maths) subjects in both school and further education.
Joanne Crowther, co-founder of J & J projects, said: "The key ingredient is fun; you can hear and feel the sense of excitement in the room! Not only do we give pupils a hands-on experience, working to a deadline and learning about the importance of teambuilding and communication skills, but we also talk about how far and wide science and engineering impacts our everyday lives."
School pupils worked together in teams alongside their own teaching staff. Bedale High School pupil Hannah Norman, 13, said: "It's been really fun. We thought about our design a lot and tried to do different things in different ways to other schools!" Supporting Hannah and her team was Kathryn Robinson, Bedale High School's Design and Technology teacher. She said: "It's a good chance for the students to put all the theory of science, maths and engineering into practice. They've done a lot of debating over the design and worked well as a team."
James Preston-Pacey, Director of Science at St Aidan's C of E Academy, in Darlington, said his pupils had shown excellent communication and teamworking skills. "The aim of our school is to set up higher aspirations for our pupils and taking part in the hovercraft challenge has shown them that engineering is fun, enjoyable and open to everyone."
Teams were also supported by our students on the 'Future Engineers Scheme', a college enrichment programme for the engineers of tomorrow. They helped the school pupils with the designing and creating of the hovercrafts, really putting their knowledge as members of the 'Future Engineers Scheme' to the test. Student Jacob Guckel, from Richmond, North Yorkshire, is studying A Level Maths, Chemistry and Physics with plans to take a degree in Mechanical Engineering at university. He said: "Today not only helps me to learn new leadership skills that I can include on my CV but will hopefully inspire others to consider a future in engineering."
Laurence Job, Deputy Principal, said: "It has been a highly successful day, with many students proving they have the ingenuity, creativity and skills to become the engineers of the future. It's always great to welcome schools and their pupils to the college to have fun, learn something new, and experience a flavour of QE life!"
The eight schools that took part were Bedale High School, Staindrop Academy, Bishop Barrington Academy, Hummersknott Academy, St Aidan's C of E Academy, Haughton Academy, Hurworth School, and Wyvern Academy.