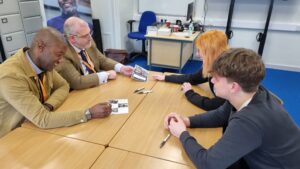 Criminology students from QE have received a personal insight into the exciting roles of a judge and magistrate following a visit to the College by two leading professionals. Magistrate, Ian Thompson, and Carl Gumsley, Judge of the First Tier Tribunal Recorder, spoke to students in great detail about their day-to-day roles and responsibilities, and outlined their career pathways, including how they came to secure their current jobs. The students also participated in an interactive activity which challenged them to analyse different crimes, from drug supply to robbery, and determine the sentence that the culprit would receive. A lively debate followed where the group looked at different scenarios and evaluated mitigating factors, for example, if a person sneezing at the wheel and causing a crash would warrant a criminal charge. The fascinating session concluded with both Ian and Carl informing students of the wide range of careers studying Criminology will open up to them, from being a barrister to working in prisons.
Second year student, Milly Davison, who studies Criminology, Sociology and Psychology at QE, found the session very beneficial. The 18-year-old, from Elton (Stockton-on-Tees), comments: 'It was a very informative talk which we all found really interesting. Ian and Carl were both very funny and we had a great morning!' Milly has applied to study Criminology and Forensics, in addition to Professional Policing, at university. Emily Barratt, who studies, Criminology, Psychology and Law, was grateful to receive an insight into the roles available within the legal sector. The 18-year-old, from Catterick Garrison, says: 'It was great to not only find out about the different jobs, but also learn about Ian and Carl's personal experiences within their roles.'
Rob O'Connor, Course Leader for Criminology at QE, concludes: 'It was an absolutely captivating day. The details that both Ian and Carl provided about their roles as a judge and magistrate were unbelievable. It has also been really useful for our students to see how the subject of Criminology can be applied to real life situations and our criminal justice system. I didn't want the session to end.'
For more information about QE's Criminology course, please contact Laurence Job, Deputy Principal (ljob@qeliz.ac.uk).