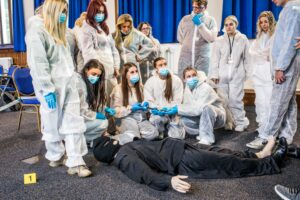 Our Criminology students donned their cleanroom 'bunny' suits and cracked a complex mock murder mystery involving a staged crime scene and fake dead body. The immersive experience, the first of its kind at QE, allowed almost 120 Year 2 Criminology students to hone their investigative skills by examining evidence and applying their knowledge in forensics to solve the case. The event, which ran across two days with participants split into 6 separate groups, included in depth workshops on fingerprinting, the analysis of DNA evidence, and the transfer and storage of evidence.
Criminology course leader Rob O'Connor said: "The exercise allowed students to delve into the world of forensic science and provided them with invaluable practical experience in the exciting field of crime scene investigation. The workshops offered hands-on experience as students learnt about the intricacies of fingerprint analysis and the crucial role DNA evidence plays in modern criminal investigations."
The Criminology department is one of the largest in QE, with approximately 300 students across both year groups studying the WJEC Level 3 Applied Criminology qualification. The course, which was first offered at QE in 2020, is popular among those wanting to forge careers within the police, probation and prison services, as well as aspiring social workers.
It is the first time the department has staged a forensic experience event. It forms part of a wider timetable of enrichment opportunities, which includes an upcoming talk by critically acclaimed writer and former gang leader Justin Rollins, and a one day workshop with a Crown Court judge and magistrate.
Student Elisha Oyston, 17, from Darlington, said: "I really enjoyed the practical exercises that we took part in – the crime scene, with the lifelike dead body, was great! Today has confirmed what I already knew and that is to pursue a career in crime scene investigation."
Tim Fisher, Principal at QE, said the eye-opening experience proved highly successful. "The event offered our students a glimpse into the real-world applications of their criminological studies and was an innovative and engaging learning experience," he said. "We are proud of the outstanding efforts put in by everyone to crack the case and, as a college, we remain committed to nurturing a new generation of skilled professionals equipped to tackle the challenges of the ever-evolving field of criminology."