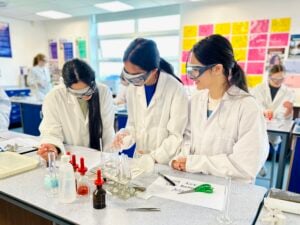 There was a saboteur within the A Level Chemistry department at Queen Elizabeth Sixth Form College (QE), Darlington, as students put their skills to the test in the regional finals of the prestigious Schools' Analyst Competition, organised by the Royal Society of Chemistry (RSC). For this year's challenge, which has been a calendar highlight since 1990, the budding chemists were tasked with identifying an unknown white powder which had been added to the ingredients of the Great British Bake Off's (GBBO) finalists' recipes, creating chaos in the famous white tent. Greeted with the note 'Good luck being Star Baker now, losers', the first year Chemistry students had to apply a range of scientific techniques, including chromatography, test tube analysis, flame tests and titrations, to discover the mystery component and rescue the contest. The practical experiments allowed participants to expand on their existing Chemistry knowledge and aptitudes, demonstrating skills which will prove useful in science-based careers. With each student having their own unique ingredient to identify, their findings will be analysed by Northumbria University with the winners advancing to the national finals, competing against schools and colleges from across the United Kingdom.
Speaking just before the competition began, Serena Iwaniuk, who studies A Level Chemistry, Biology and Psychology at QE, said: 'It's a great challenge because we don't receive much help from our teachers and it will make us more independent in terms of organising each experiment.' Dylan Wilson, who is enrolled on A Level Chemistry, Biology and Maths, added at the end of the session: 'I really enjoyed the day. I'm considering studying Chemistry in the future and the contest has helped me to develop new skills.'
Julia Magnall, teacher of Chemistry at QE who oversaw the experiments, concludes: 'We had 28 enthusiastic students who chose to take part in an activity outside of lessons which shows their passion for Chemistry. I've watched everyone and they've taken the competition incredibly seriously, they all want to win and reach the national finals! We're looking forward to finding out the results and seeing if we were able to save the GBBO from crumbling.'
To find out more about A Level Chemistry at QE, please contact Laurence Job (ljob@qeliz.ac.uk).