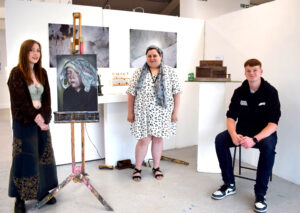 Striking work by three QE students is on display in a national art exhibition that explores the theme of sustainability. Mia Johnson, Alex Mason and Anna Bradley – Art students at the College – are among 146 students from across the UK chosen to have their work included in the Sixth Form College Association (SFCA) annual art exhibition, which this year is themed 'A Sustainable Future'.
Mia, a first year Fine Art student from Yarm, was inspired by the famous oil painting Girl with a Pearl Earring, by Dutch artist Johannes Vermeer, when she painted her piece Girl with a Plastic Bag. She explained: 'The piece depicts how plastic has become integrated into every part of our lives – it is inescapable. I believe this is communicated visually by the stark contrast of a beautiful woman painted in a classic style opposed to the plastic bag, which appears out of place to the eye.'
Anna, a student on QE's Art Foundation course, explored a range of processes, including cyanotype and anthotype photography using natural products including seaweed and beetroot. 'I aimed to achieve more sustainable practices to promote eco – friendly photography, and to challenge how people would traditionally process film,' said Anna, from Long Newton. 'The final result is a collection of images that have been taken, explored, and developed through a range of sustainable processes, inspired by the natural world we are trying to save.'
The online SFCA exhibition aims to give young people a voice through the arts, encouraging Sixth Form students to express themselves and communicate their concerns and beliefs through their work. Much of this year's work focuses on plastic pollution, climate change, rewilding, and sustainable living.
Alex, a second year Graphics student from Darlington, designed an outdoor adventure holiday resort with eco-friendly accommodation to promote sustainable living as part of his project. He said: 'Sustainable living means understanding how our lifestyle choices impact the world around us and finding ways for everyone to help preserve the environment. I was really surprised when I found my work had been selected and felt really proud.'
QE's Assistant Head of Art and Design Rachel Barras, a teacher of A Level Textiles, congratulated the students. She said: 'The work they've produced is not only visually stunning but also discusses interesting and important topics that just shows the maturity and creativity in our Art and Design students.'