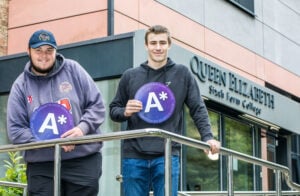 Two top sports students at QE have achieved excellent A Level results and will continue to study in the region.
Team GB water polo player Ben Alderson, from Newton Aycliffe, achieved A grades in A Level History and Law, as well as a Distinction * in Level 3 Extended Certificate in Sport and Leisure.
The 18 year old, who is on England's U19 men's water polo squad, will go on to study History at Durham University, where he has been awarded a water polo scholarship.
"I'm absolutely delighted with my results and can't wait to continue my studies" said Ben, who has played water polo since the age of 7 and is a volunteer coach at Sedgefield Water Polo Club and assistant coach to the North East Boys U15 Academy.
Fellow QE student Tom I'Anson, a passionate cricket coach who dedicated more than 300 hours to volunteering around his second year A Level studies, landed a double Distinction* in Level 3 Diploma in Sport and Leisure, which is worth the equivalent of two A Levels, and a Distinction at Level 3 Cambridge Technical Extended Certificate in IT.
The award-winning Darlington teenager has secured his place to take a BSc (Hons) in Computer and Digital Forensics at Teesside University.
"I am thrilled with my achievements at QE and I'm looking forward to continuing my studies at university" said Tom, who in May was named QE Volunteer of the Year at the College's annual volunteering awards.
Around his studies, Tom coached weekly cricket at Darlington R A Cricket Club, where he manages the u11 team, volunteered with Darlington Borough Council's Holiday Activity Fund, and was a voluntary teaching assistant at Reid Street Primary School, in Darlington.
QE Principal Tim Fisher applauded Ben and Tom on their 'excellent' results. He said: "Both young men are fine examples of students who embrace college life and remain focused on their studies while also dedicating hours of their time to sport and volunteer coaching.
"They thoroughly deserve the excellent results they received today, and QE wishes them well in the future – they will be missed."